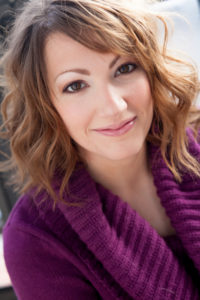 Jacquie Militano
Jacquie Militano is a Jersey-raised/story-crazed actor, director and producer with 10+ years of production, coaching, performing and writing experience in the entertainment and media industries.
After graduating from George Mason University with a BA in Theatre and "Best Actress" honor, she appeared in and collaborated on various contemporary theatre projects with Matthew Corozine Studio Theatre and Primary Stages.
Previously seen performing with Disney Entertainment, at both Walt Disney World and World of Disney NYC in a number of productions including High School Musical Pep Rally, Snow White's Do Si Do, and Pirates in the Big Apple. Continued her Disney career as a DJ for Radio Disney NY, hosting the "Kids Concern Show" on-air and opening various Disney Channel concerts and live events across the tristate.
Jacquie founded her own production company, Q.U. Productions Co., as a place to create and develop original web series and digital media projects. The Anonymous Lives of John & Jane, which Jacquie stars in, is the first of many web series and is now in its 2nd season! The series received press accolades from The Skinny NYC, NetTV Now, and Broadway World.
Beyond Q.U., she grew her producing career as the accomplished Video Producer at CafeMedia. Following she headed up video production as the Senior Video Producer at The Knot Worldwide (formerly XO Group Inc.), leading all video strategy and creation for The Knot and The Bump.
She has directed and taught children's theater with Acting for Young People D.C., Manhattan Movement and Arts Center NY, Applause NY and Paper Mill Playhouse NJ.
Most recently she directed the incredibly talented casts of Edgemont High School's productions of The Mystery of Edwin Drood and Shrek. Her and her one-year-old son can also be found starring in several videos for Babylist! And most importantly, she has been a member of the KJK Productions family since 2007!