Camp Scholarship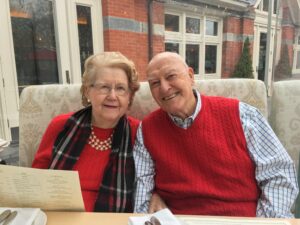 The Bunches Scholarship
The Bunches Scholarship is in its inaugural year and was created in memory of Joan "Bunchie" and John "Bunch" Kearins. Joan and John Kearins were volunteers for KJK Productions for over four decades. Throughout the years, Joan and John have volunteered thousands of hours and had been involved in every performance ever produced by KJK Productions. Joan custom-made hundreds of costumes, volunteered in the theater box office, sold concessions, and maintained costumes used by KJK after-school programs. John volunteered for many years building scenery, cleaning and maintaining the theater, and serving as Head Usher for hundreds of performances. Joan and John were exceptional members of the KJK community, often building community, supporting young actors, and running the theater behind the scenes to ensure that the show would go on.
Joan and John are remembered for their enthusiasm, dedication, generosity, and caring hearts. The Bunches Scholarship is given to honor their memory and continue their legacy of encouraging young performers to pursue their interest in theater, arts, music and education.
Scholarship Applications are due by April 1st.